Opteran
A Sheffield University tech spin–out creating Artificial Intelligence for autonomous machines
Everyone essential
Opteran is a tech spin out creating Artificial Intelligence for autonomous machines. They asked us to create a brand and narrative to attract investors. Opteran's story evolved through conversations with scientists, engineers and entrepreneurs into a brand narrative based on proven, evolved solutions to autonomy - Natural Intelligence. Nature has been using billions of test pilots (birds, bees, us) for millions of years to solve autonomy - start there. Opteran's unique approach to creating AI is to map real brains onto silicon chips.
Beyond business
We love working with university spin outs, their ambition huge. AI is often used to describe machine learning - a pattern based approach that needs a lot of time and energy to work. Opteran's solution is undoubtedly innovative but we chose to play that down and build on the fact that their approach is based on evolved solutions that nature has been using for millions of years. Natural Intelligence is all around us everyday and Opteran know how to harness it to make smarter, more independent machines.
Execution is strategy
The Opteran brand narrative was honed during rounds of investor, partner and industry meetings and workshops. Natural Intelligence provided the narrative 'hook' for pitches, presentations and executive summaries that caught investor imaginations. It helped Opteran secure the €2.3 million funding they needed to take the next step. "The benefits and step change Natural Intelligence can bring to the field of autonomy are profound." Rob Desborough, CEO of Spacecamp.
Deliverables
Brand narrative
Visual brand elements
Executive summary structure
Messaging hierarchy
Presentation graphics
Website art direction and animations
Impact
Secured €2.3 million investment
Launched Green Hornet autonomy platform at the Science museum
Business shift
Machine learning
Nature is smarter
Natural machines
Heavy
Evolution is more efficient
Light
Theory
A solution that's worked for millenia
Proven
Opteran's core features
A natural brain copied onto silicon chips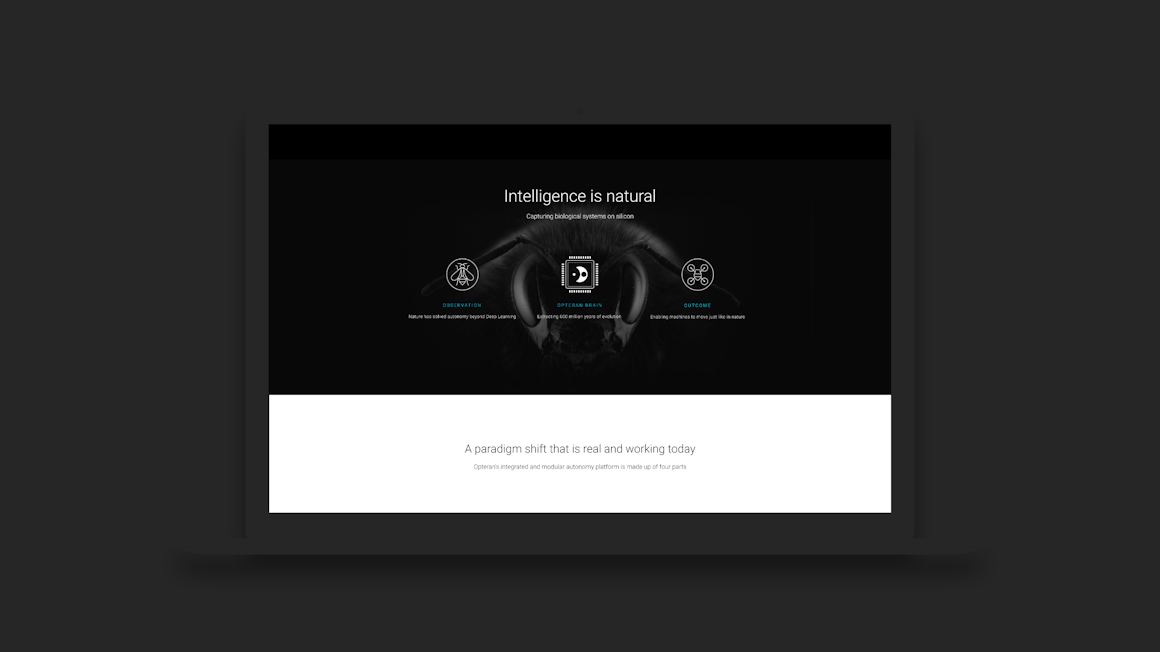 Launch website
Promotional imagery
View our work